Environmental responsibility and safety
2019 highlights
SOX emissions intensity – 0.20

Previously published figures contained in the Company's press releases were calculated based on preliminary data.

(IOGP – 0.2 Available data on the International Association of Oil & Gas Producers (IOGP) performance indicators for 2017. )
NOX emissions intensity – 0.21 (IOGP – 0.37)
Associated petroleum gas (APG) flaring rate – 2.95 (IOGP – 10.5 Available data on the International Association of Oil & Gas Producers (IOGP) performance indicators for 2018. )
APG utilisation rate: 97%
Historical waste and oil contaminated soils treatment: 325 thous. tonnes (target: 325 thous. tonnes)
Reduction in energy consumption (against a 2016 baseline) – 0.7%
CDP score: C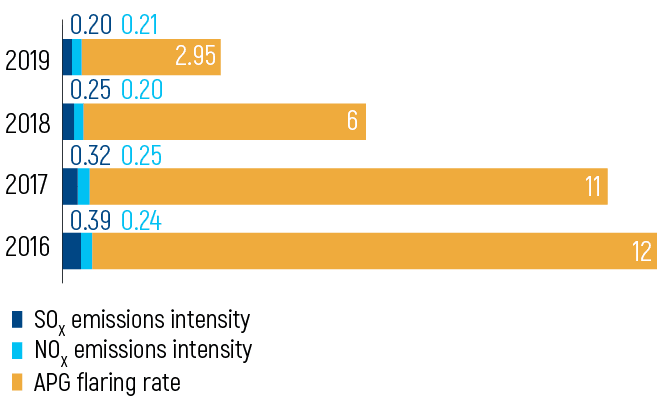 The Company's goals in HSE management are directly related to its Development Strategy. KMG's Development Strategy until 2028 covers strategic initiatives to promote greater environmental responsibility. The Company's environmental priorities include management of greenhouse gas emissions, water resources and production waste, flaring reduction, land reclamation, and energy efficiency improvement.
In 2019, the Company approved its Environmental Policy as prioritised by the Development Strategy. KMG and its subsidiaries take a zero tolerance approach to environmental harm caused by pollution. For the first time, the Environmental Policy covers such environmental aspects as climate, biodiversity, compulsory additional evaluation of risks related to operations in ecologically valuable areas, compulsory reclamation of polluted lands, and ensuring pipeline integrity.
In 2015, KMG supported the World Bank's GGFR initiative to eliminate routine APG flaring by 2030. KMG's Emissions Management Policy was approved in 2019 as part of this initiative. The Policy is aimed at complete elimination of routine flaring and is comprised of eight key principles, six of which directly address climate change.
KMG Group also implements the Road Map to Improve Occupational and Environmental Safety at KMG until 2020 which includes its main strategic environmental and sustainability initiatives. Every year the Company builds new recycling facilities, retrofits existing plants, and invests in new pipelines and infrastructure, e.g. construction of central gas processing facilities, the Saryarka trunk gas pipeline, etc.
Priority environmental projects
Elimination of historical pollution, as well as sources of negative environmental impact (idle wells, wastewater reservoirs, landfills and other production facilities)
Reduction in emissions through improved technology solutions, e.g. replacing fuel oil with fuel gas/natural gas used as fuel in process furnaces, using next-generation additives, tree planting and land improvement at production facilities, replacing equipment, expanding gas processing capacity, installation of gas processing units, etc.
Reduction in discharges: the Tazalyq Project – wastewater treatment facilities upgrade at Atyrau Refinery and reclamation of the Tukhlaya Balka evaporation fields
Cooling tower overhaul to increase the volume of fresh process water by 3 thous. m³; treatment efficiency improvement at treatment facilities.
As part of the NAMA Facility climate change mitigation project, KazTransGas Onimderi LLP (KTGO) intends to further increase the proportion of gas-powered motor vehicles and specialised machinery in its fleet within the initiative to convert it from traditional fuels (petrol and diesel fuel) to CNG (fleet upgrade). Following the fleet upgrade between 2020 and 2024, the share of gas-powered vehicles (at least Euro-3 standard) is expected to reach 35%. Improving the fuel mix and vehicle standard by upgrading (purchasing) 16 new LPG-powered vehicles and 46 new CNG-powered vehicles will significantly reduce transport emissions at KTGO. While in 2018 transport emissions totaled 17,962 tonnes, in 2024 following the implementation of the planned measures requiring about KZT 600 mln over five years, these emissions may be reduced to 17,144 tonnes per year or by 4.6%.
Employee training in environmental management
The steadily improving performance suggests that the need for HSE training at KMG Group remains strong. Given the specifics of Kazakhstan's oil and gas sector, as well as statutory requirements to mandatory staff education, training and upskilling, occupational health and safety, and industrial and fire safety are priority training areas.
In 2019, KMG spent a total of KZT 1,179,877 thous. to train 130,615 employees. Under the "70/20/10 – on-the-job training/internal training/external training" model rolled out across KMG Group, occupational health and safety and industrial and fire safety trainings are conducted at KMG's existing six training facilities/centres.
Ozenmunaigas JSC (Zhanaozen), KazTransOil JSC (Aktau), Intergas Central Asia JSC (Atyrau, Shymkent), Pavlodar Oil Chemistry Refinery LLP (Pavlodar) and Oil Services Company LLP (Aktau) have their own training facilities/centres.
In addition to the tenured faculty, line managers and highly qualified specialists from among KMG long-serving operating personnel are engaged by training centres to deliver trainings and upskilling courses for KMG employees.
Long-serving employees are also engaged in the mentor and internal trainer programmes run by KMG, along with master classes, trainings and various contests held to recognise best performers, enhance internal communications and motivate employees to excel in their jobs.
Employee training expenses
| | 2017 | 2018 | 2019 |
| --- | --- | --- | --- |