COMPANY OVERVIEW
JSC National Company KazMunayGas (KMG, the Company) is Kazakhstan's leading vertically integrated oil and gas company, operating assets across the entire production cycle from the exploration and production of hydrocarbons to transportation, refining and services. Established in 2002, the Company represents the interests of the Republic of Kazakhstan in the national oil and gas industry.
CAPITAL STRUCTURE
KMG is owned by Sovereign Wealth Fund Samruk-Kazyna Joint-Stock Company (hereinafter — Samruk-Kazyna JSC, the Fund) (90.42%) and the National Bank of Kazakhstan (hereinafter — NBK) (9.58%). Samruk-Kazyna JSC is the Fund, the sole shareholder of which is the Government of the Republic of Kazakhstan.
The Fund's mission is to improve the sovereign welfare of the Republic of Kazakhstan and ensure long-term sustainability for future generations. The Fund's portfolio includes companies operating in oil and gas, transport and logistics sectors, chemical and nuclear industry, mining and metallurgical complex, energy, and real estate.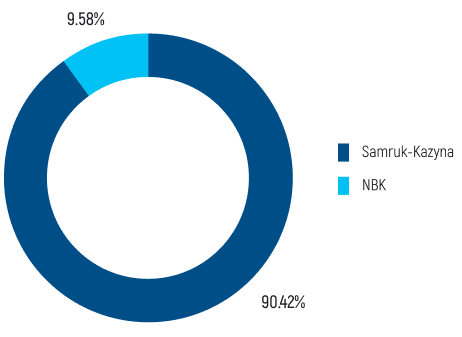 OIL AND CONDENSATE PRODUCTION