Macroeconomics, global trends and internal drivers

| | | | |
| --- | --- | --- | --- |
| Changes in the global fuel and energy balance | Increase in demand for liquid fuel in non-OECD Asia. Increase in global demand for gas, including demand in China as the main driver. | Market expansion and diversification through developing oil and gas midstream capacities. | |
| Dynamic digitalisation and automation in the industry | Development and implementation of Smart Field technology, digitalisation and automation of business processes in the oil and gas industry. | KMG is implementing Digital Transformation Programme. | |
| Increasing significance of ESG in business communication | Introduction of best practices in ESG as a trend in the oil and gas industry. | Integrating sustainability principles into core business processes is a key element of KMG's long-term strategy. | |
| Hydrocarbon price volatility | Oil prices are affected by both fundamental and geopolitical factors, which results in high price volatility. | KMG is focused on maintaining its financial stability, in particular through financial discipline, and maintaining a well-balanced capital structure. | |
Changes in the global fuel and energy balance
According to the International Energy Outlook by the US Energy Information Administration (EIA) dated 24 September 2019, energy consumption in non-OECD countries will increase by about 70% between 2018 and 2050 versus 15% in OECD countries.
Non-OECD countries will account almost exclusively for liquid fuel consumption growth between 2018 and 2050, following population growth and economic development. Non-OECD Asia accounts for about three-fourths of the increase in global liquid fuel consumption.
Strategic direction
KMG considers global trends in liquid fuel and natural gas and seeks to maximise the efficiency of its oil transportation infrastructure to increase oil exports. In particular, by developing the Kazakhstan–China Pipeline, KMG will ensure hydrocarbon supply from Western Kazakhstan fields to the high-potential Chinese market, and the Caspian Pipeline Consortium is a key component of the transportation infrastructure targeting Europe.
Increase in global demand for gas
As a fossil fuel with a relatively low carbon footprint, natural gas plays a critical role in balancing solar and wind energy. Global gas demand will remain solid in the long term.
According to the International Energy Outlook by the US Energy Information Administration, global natural gas consumption will increase by more than 40% between 2018 and 2050, while in non-OECD countries the increase will reach 70%.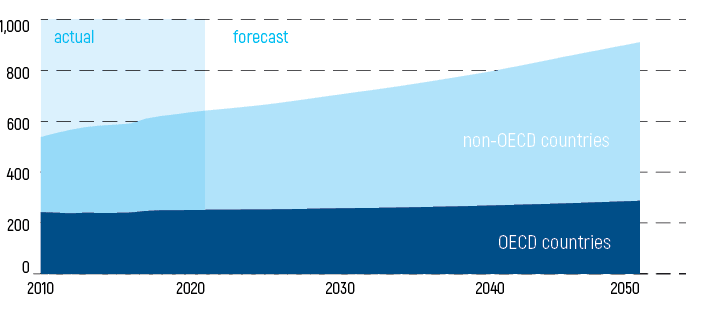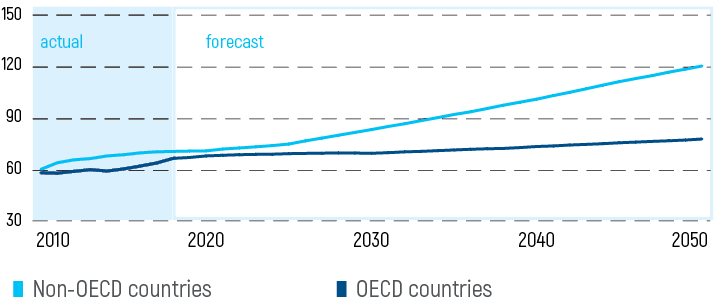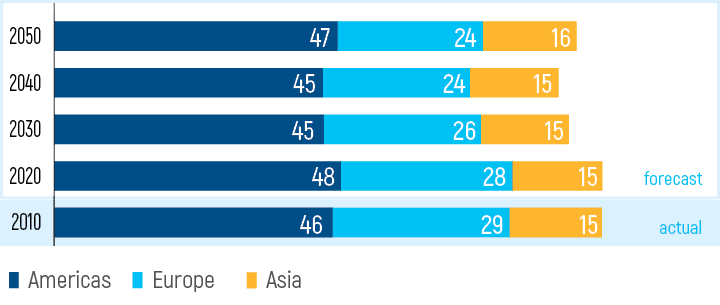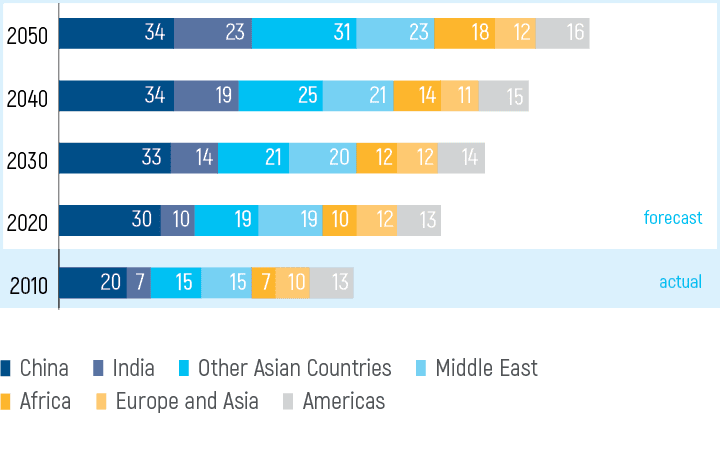 Increase in natural gas demand in China
According to the National Development and Reform Commission of the People's Republic of China, apparent natural gas consumption CAGR in 2012–2019 was at 15.4%. In 2019, apparent gas consumption was at 306.8 bln m³, having increased by 10.0% year-on-year.
As Sinopec Gas Company estimated in its report dated 15 October 2019, the long-term gas demand in China will reach 510 bln m³ by 2030, supported by continued industry upgrades and urbanisation. In August 2019, CNPC Economics & Technology Research Institute estimated China's gas demand at 610 bln m³ by 2035, and 690 bln m³ by 2050.
Strategic direction
KMG aims to implement a number of initiatives to ensure sufficient reserves of commercial gas and adequate pipeline capacities to boost exports to China while meeting growing domestic demand. The Kazakhstan–China trunk gas pipeline, and Beineu–Bozoi–Shymkent trunk gas pipeline are the key projects to unlock KMG's potential for natural gas exports to China.

Digitalisation
At present, digital technology penetrates in all economic sectors, allowing fundamental improvements in efficiency and safety. Energy is also no exception: leading oil and gas companies around the world efficiently use Big Data, predictive analytics, artificial intelligence, machine learning, robots, etc.
Innovative digital technology means:
reduced capital expenditures and operating expenses;
better profitability amidst volatile oil prices;
improved efficiency, including through data analysis;
better failure prediction;
process safety.
Digitalisation can become the engine of the national economy. Digitalisation will become a driver for the development and adaptation of new technologies to the economy of Kazakhstan, which would allow launching a new wave of job creation.
Given the growing relevance of digitalisation in the world, the state has launched the Digital Kazakhstan state programme to ensure the country's competitiveness.
The program covers almost all economic sectors, including the oil and gas industry, for which it provides:
adopting the Smart Field technology across Kazakhstan's upstream majors;
ensuring transparency of commercial oil production reports by deploying metering systems;
Ensuring uninterrupted domestic fuel supplies by deploying automated maintenance and repair management, and control systems, as well as repairs at Kazakhstan's refineries.
The ongoing rollout of the Smart Field project is implemented at JSC Embamunaigas, JSC Ozenmunaigas, JV Kazgermunai LLP under the Digital Kazakhstan programme.
Strategic direction
The company will focus on the implementation of the Digital Transformation Program with a focus on the implementation of new digital technologies, a data-oriented approach to management, as well as the formation of digital culture. As part of the implementation of the corporate strategy in 2020, the Company began to develop KMG Digitalisation Strategy.
Developing ESG practices
In September 2015, the leaders of 193 countries approved an ambitious comprehensive programme Transforming our World: the 2030 Agenda for Sustainable Development, which included Sustainable Development Goals. Combating climate change and transforming energy systems are key challenges to a sustainable future for the business community, society and the environment. The Paris Agreement sent a strong and global message that the transition to a low-carbon economy is inevitable. Kazakhstan's Intended Nationally Determined Contribution (INDC) to the Paris Agreement is to reduce the country's GHG emissions by 15% (unconditional goal) compared to the 1990 base year or, even more ambitiously, by 25% (conditional goal) by 2030.
Strategic direction
In making decisions, KMG factors in the national and global trends for a transition to a greener economy and recognizes that long-term success in the industry requires strong ESG performance. As a signatory to the UN Global Compact, KMG reiterates its commitment to the principles of sustainable development and embraces Sustainable Development Goals while particularly focusing on climate change, prevention of adverse environmental impact, and corporate social responsibility.
Volatility of crude oil prices
In 2019, Brent crude futures traded averaged at USD 61.9 per bbl, down by 6.6% year-on-year. During the year, crude oil prices remained volatile (with 30-day volatilityAnnualised standard deviation of daily logarithmic price changes for the last 30 trading days. at 28%), higher than in 2018 (20%), due to heightened geopolitical risks.
On 19 March 2020, Brent crude settled at USD 28.47 per bbl, having decreased by 56.0% year-to-date, amidst the coronavirus pandemic, and higher expected oil supplies. The COVID-19 outbreak is expected to slow economic growth and suppress oil demand in the short-term.
On 6 December 2019, the 7th OPEC and non-OPEC Ministerial Meeting decided to increase crude oil production cuts by a further 500 kbopd, bringing the total production cut to 1.7 mbopd, starting from 1 January 2020.
Strategic direction
On the COVID-19 outbreak, KMG takes a proactive approach and implements a set of measures, aimed at curbing the potential spread of the virus among employees.
Kazakhstan's oil and gas industry
Kazakhstan's wealth of hydrocarbon reserves make the oil and gas industry a key sector of the national economy. Kazakhstan has extensive hydrocarbon resources to support reserves growth. More than 60% of Kazakhstan's territory is occupied by oil and gas areas of various sizes.
The oil and gas industry accounts for approximately 21% of Kazakhstan's total GDP (in 2018). The crude oil and natural gas production sector attracted 50% of gross FDI inflows in 2019. The export of crude oil, natural gas, and petroleum products safeguards export revenues at a level of 64% of total exports in 2019 HS Code 2709 - crude oil and crude petroleum products derived from bituminous rocks, HS Code 2711 - other petroleum gases and gaseous hydrocarbons, HS Code 2710 - oil and petroleum products derived from bituminous rocks, other than crude ones..
As production expanded over the past decades, Kazakhstan has significantly consolidated its position in the global hydrocarbon market. In the medium and longer-term, Kazakhstan will continue to grow production.
According to the Information and Analytical Centre of Oil and Gas, 90.6 min tonnes of crude oil and gas condensate were produced in Kazakhstan in 2019, with a marginal change compared to 2018. Gas production was at 56.4 bln m3 in 2019, up by 1.7% year-on-year.
Kazakhstan has a modern and diversified oil and gas transportation, refining and processing infrastructure. Oil transportation is a strategic segment in KMG's asset portfolio to maintain access to markets.
KMG has diversified hydrocarbon transportation routes and built a transportation infrastructure to support gas exports to China.
According to the Information and Analytical Centre of Oil and Gas of the Ministry of Energy, the refining volume at Kazakhstan refineries was 17.1 mln tonnes in 2019, a 4.4% increase year-on-year. The output of oil products increased by 15.5% year-on-year for petrol, 7.7% for diesel, and 63.2% for jet fuel. In the medium term, a surplus for oil products is expected in the domestic market, a positive driver for exports.
Favourable economic conditions in Kazakhstan in 2019
Economic conditions in Kazakhstan are favourable given the expected positive economic growth in the medium-term, stable fiscal and monetary policies, and the government's push for structural reforms. With a GDP of USD 179 bln in 2019, Kazakhstan is the largest economy in Central Asia, accounting for about 60% of the region's GDP.
The national economy is resilient, with Kazakhstan demonstrating a sustainable economic growth rate of 4.2% on average over the past 10 years. GDP growth in 2019 was at 4.5%, outpacing the growth rates in 2014–2018.
In 2015, the NBK introduced inflation targeting and reduced inflation from a double-digit rate of 17.7% in July 2016 to 5.3% in December 2018 and 5.4% in December 2019, in line with the NBK's inflation target of 4–6% for 2019–2021. In December 2019, inflation expectations were stable and close to underlying inflation.

On 10 March 2020, the NBK made an unplanned decision on the base rate to maintain price stability amidst heightened external risks. The NBK increased the base rate to 12% with widened interest rate corridor to +/- 1.5 pp from 9.25% (interest rate corridor: +/- 1 pp).
In line with the inflation targeting regime, floating exchange rates were introduced in 2015. The NBK reserved the right to smooth out significant exchange rate fluctuations through interventions.
At year-end 2019, Kazakhstan's tenge settled at 382.6 vs. US Dollar. In 2019, tenge traded on average at 382.9 vs. US Dollar, having weakened by 11.0% year-on-year. On 19 March 2020, tenge settled at 448.5 vs. US Dollar, implying a 17.2% weakening year-to-date, largely reflecting a drop in oil prices.
Since 2004, Kazakhstan's sovereign credit ratings from leading rating agencies S&P, Moody's, and Fitch have remained at investment grade.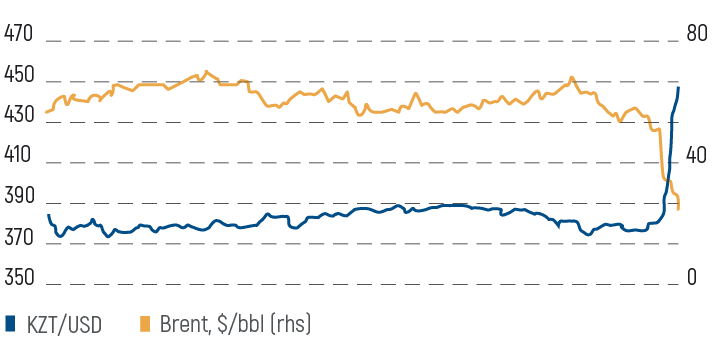 | | Moody's | S&P | Fitch |
| --- | --- | --- | --- |
| Kazakhstan | Baa3 (positive) | BBB- (stable) | BBB (stable) |
As of 16 March 2020
Government debt
The level of government debt is among the lowest in most emerging markets. According to Fitch rating's estimates, gross general government debt was at low of 18.2% of GDP at year-end 2019, compared to 'BBB' median of 41.1%.
National Fund's assets
The National Fund's assets remain solid, accounting for 34.4% of GDP at year-end 2019. Going forward, this figure is expected to exceed 30% of GDP in accordance with the Concept for the Formation and Use of Funds of the National Fund of the Republic of Kazakhstan. The main purpose of the National Fund is to preserve financial resources through building savings for future generations of the country and reducing the dependence of the state budget on the dynamics of commodity markets.
Investment and business climate
Over the past two years, Kazakhstan has jumped 11 places in the World Bank Doing Business 2020, now ranking 25th out of the 190 countries. Kazakhstan ranks 7th among 190 countries in "Protection of minority investors" indicator. The Government has successfully implemented reforms pursued under the Concept of State Regulation of Business Activity until 2020. In 2019, the Government continued to consider new legislative initiatives to foster an enabling business environment in the country. In 2005 – 2019, gross FDI inflow in Kazakhstan amounted to approximately USD 314 bln from 120 counties.
Strategic direction
The investment-grade sovereign credit ratings support KMG's credit ratings, contributing to KMG's strategic initiatives in maintaining access to international capital markets.
Kazakhstan's new Environmental Code
On 24 December 2019, the Government approved a draft of the new Environmental Code of the Republic of Kazakhstan. At the end of 2019, the draft Environmental Code, prepared with consideration to public opinion and OECD best practices, was submitted to the Majilis (Lower Chamber) of Kazakhstan's Parliament. The draft is currently under consideration and scheduled to enter into force on 1 January 2021. To implement the new Environmental Code, the Government of Kazakhstan has started developing the Best Available Techniques Not Entailing Excessive Costs (BATNEEC) guidelines with the involvement of the International Green Technologies and Investment Projects Centre (the "Centre"). In 2020, the Centre plans to conduct comprehensive technology audits of KMG refineries and upstream assets.
Strategic direction
KMG is a key stakeholder in the development of environmental legislation. KMG is an active member of relevant associations and ministerial-level working groups, taking an active role in the development and discussion of the new version of the Environmental Code of the Republic of Kazakhstan. In 2019, the Company approved its Environmental Policy as prioritised by the development strategy. KMG and its subsidiaries take a zero-tolerance approach to environmental harm caused by pollution. Rolled out in 2019, KMG Group's Emissions Management Policy is aimed at complete elimination of routine flaring and comprises eight key principles, six of which directly address climate change.
New Exploration Programme
In the first half of 2020, a draft State Geological Exploration Programme for 2021–2025 is expected to be considered by the Government, outlining a range of measures to improve legislation, attract investment by offering tax incentives, and simplify the regulation of subsoil use.
The programme aims to step up exploration activities in promising underexplored areas of Kazakhstan. The state investment will be provided to encourage geological and geophysical studies in five promising basins: Aral, Syr Darya, Priirtysh, Shu-Sarysu, North-Turgai.
According to KAZENERGY Association's 2019 report, extensive exploration programmes in previous years have resulted in a huge wealth of geological and geophysical data, minimising the geological risk in selecting new prospects for subsoil use. Vast exploration opportunities in the promising underexplored areas of Kazakhstan support the investment case for the oil and gas industry.
KMG's Geology and Exploration team is strongly focused on analysis and modelling of petroleum systems within the main sedimentary basins of Kazakhstan, such as the Caspian, Mangyshlak, Ustyurt-Bozashin, and South-Turgai. This contributes to the investment appeal of hydrocarbon exploration in Kazakhstan.
Strategic direction
KMG is committed to increasing its oil reserves and plans to ensure reserves growth through organic and inorganic growth. At the same time, KMG is focused on maximising the economics of its exploration and production activities.