Strategic Priorities
In 2019, KMG's Development Strategy was extended in terms of gas reserves increase and assurance of efficient gas use in the domestic market. These changes were directly related to the expected increase in natural gas consumption in Kazakhstan and the Company's intention to leverage the export and transit potential of natural gas.
2018–2028 DEVELOPMENT STRATEGY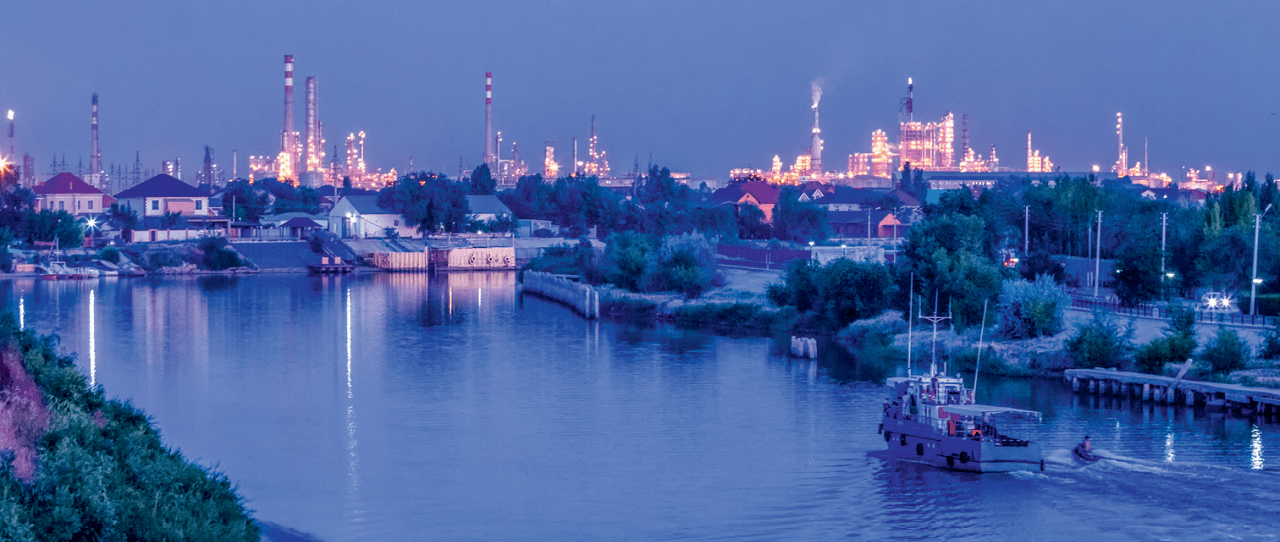 Value creation for shareholders
In this area, KMG will mainly focus on its core business, organic growth and improved operations across all key segments.
KMG plans to boost oil output and maintain production from existing assets while continuing to adopt advanced technology and implementing digitalisation projects across its fields. KMG also intends to expand its oil and gas resource base to ramp up international and domestic supplies of hydrocarbons and oil products.
To effectively leverage its oil and gas transportation potential and enhance its exports and transit businesses, the Company is committed to optimising the use of its oil and gas pipeline networks. The upgrade of the oil transportation network and new trunk gas pipelines have provided the Company with the necessary transportation capacities to accommodate the rising domestic production and international transit.
The Company has completed the upgrade of Kazakhstan refineries to boost throughput and increase the yield of light products. As a result, KMG has achieved an important strategic goal for Kazakhstan by fully meeting the domestic demand for oil products.
The Company carefully selects and prioritizes investment projects, considering only highly profitable projects for investments.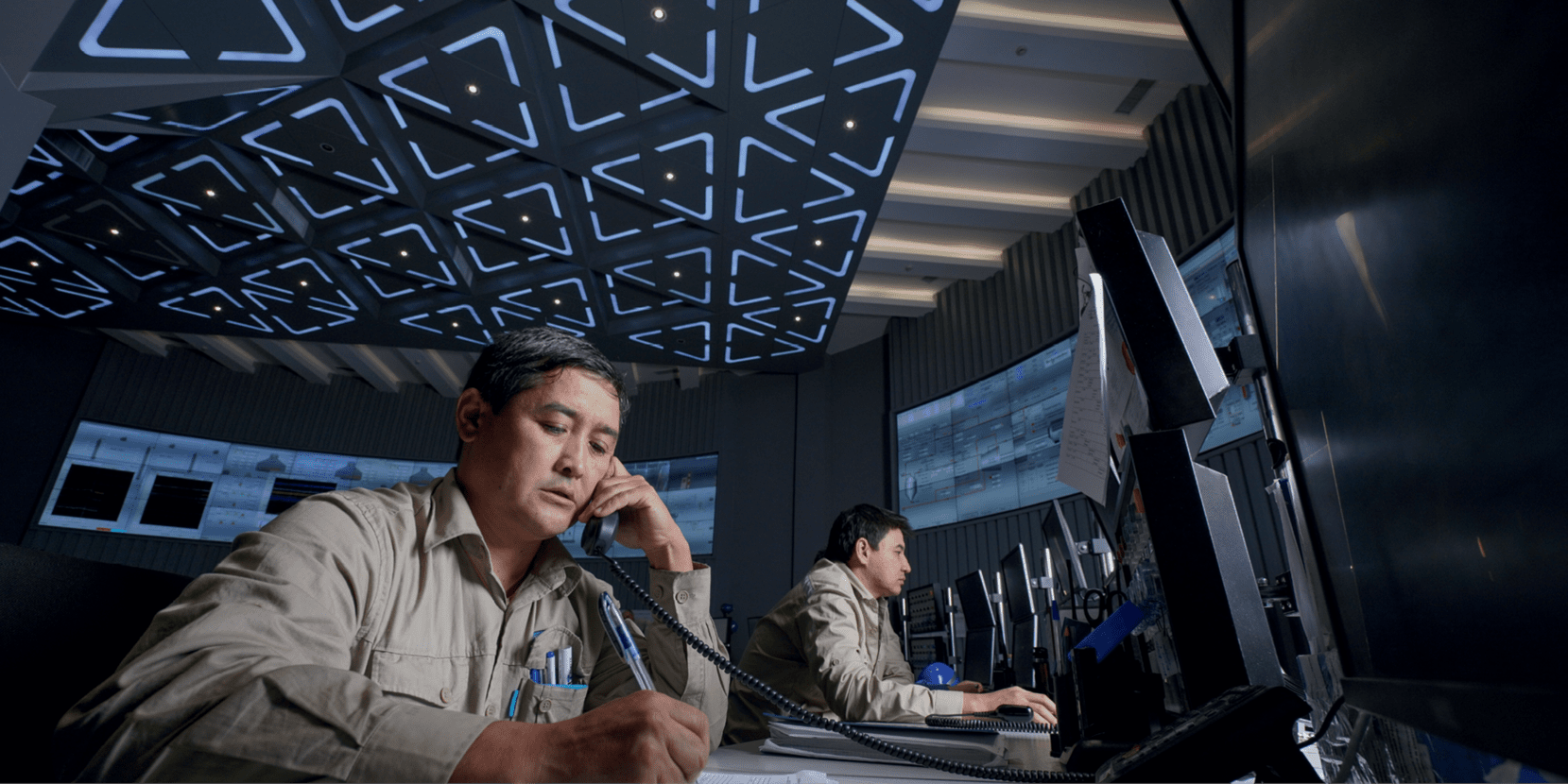 Digitalisation and process optimisation
A strategic priority for KMG includes building a transparent value chain across all subsidiaries, and joint ventures, including through automating end-to-end IT solutions and aligning processes.
In May 2019, at the Meeting of Management Council of Samruk-Kazyna JSC, a decision on the transition from the Transformation Programme to the Digital Transformation Programme was made, which is a crucial competitive advantage in an innovation-driven world.
Inspired by the Fund's new vision, KMG has designed its approach to developing a project portfolio under the Digital Transformation Programme, which provides for phased digitalisation across all business lines.
The goals of the Digital Transformation Programme include:
Maintain efforts to achieve the Company's strategic goals
Gain tangible benefits
Refocus on core operations
Improve operational efficiency
Implementation of a data-driven approach to managing the Company (Data-Driven Company)
Unlock new opportunities through Industry 4.0.
Transition to digital technologies is implemented under a phased approach considering existing maturity and digital literacy levels as well as the availability of automation systems at facilities. These goals are achieved through initiatives and projects currently implemented under the Digital Transformation Programme such as Smart Field, Building a Digital General Plan and 3D Model for Kazakhstan Oil Refineries, Adopting a Data Management System, Adopting an Information Security System as part of the Cybershield, Ride Management (Vehicle GPS Monitoring), etc.
On 22 January 2020, a kick-off meeting was held, which discussed the development of the KazMunayGas Digitalisation Strategy. KMG is currently working on the vision for the Company's further digital development focusing on both the approach to selecting digital solutions and on building a new digital corporate culture through changing employee mindsets and behaviours at all levels from top managers at the Corporate Centre to contributors across subsidiaries.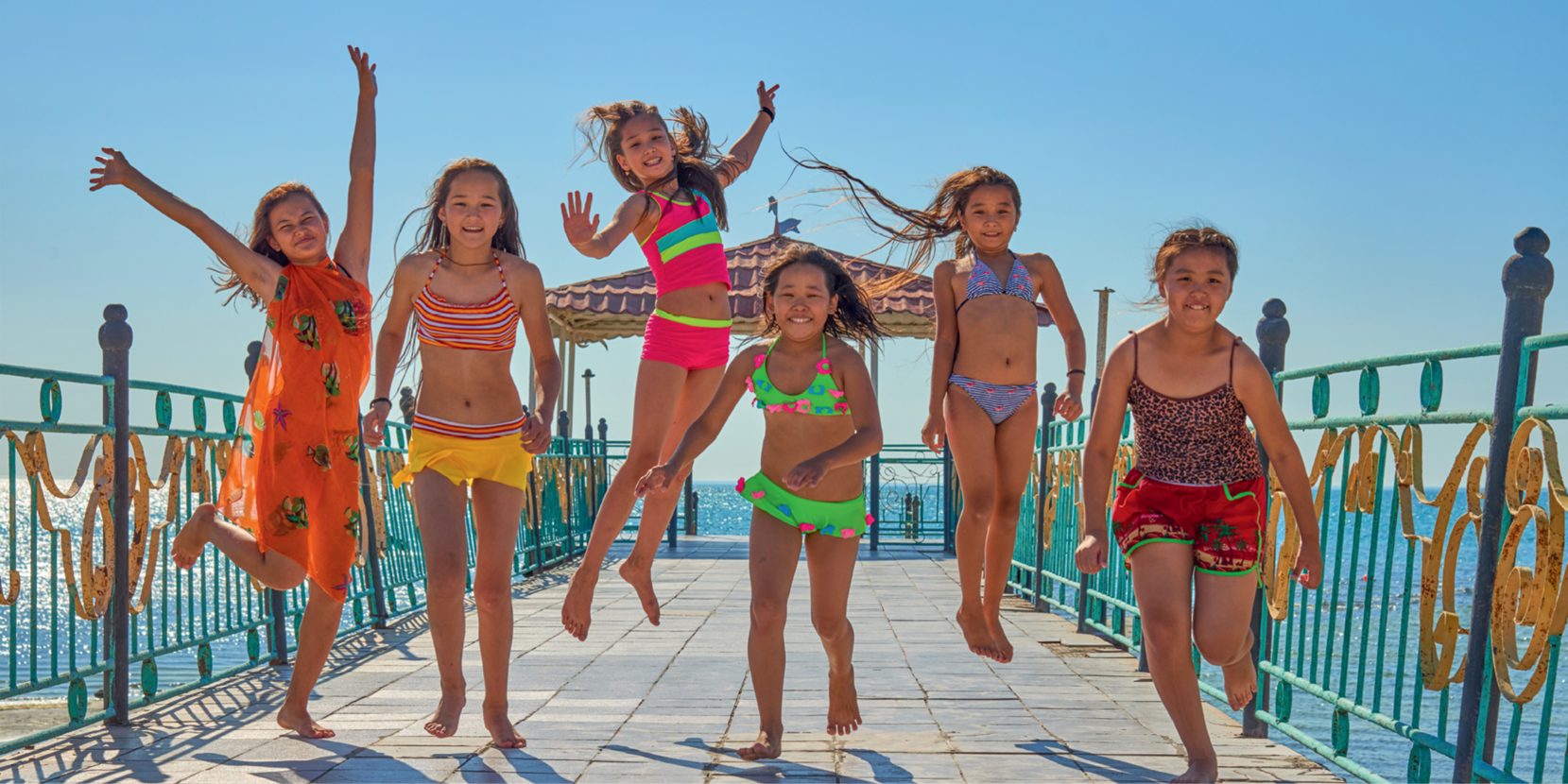 Implementation of best practices in sustainability and corporate governance
KMG is committed to aligning operations with sustainability principles, and economic, environmental and social goals. The Company seeks to be in the top quartile across all ESG metrics and integrated ESG goals within the framework of strategic and medium-term KPIs for executives.
As a major national employer, the Company recognises and meets its important social commitments inspired by principles of partnership with its employees and trade unions.
KMG is committed to enhancing business through greater transparency of operations and adherence to high corporate governance standards. In 2018, the Company approved its new Code of Business Ethics outlining corporate values and defining key principles and rules of business conduct as well as the requirements of corporate ethics binding on all employees. The Company intends to continue monitoring the evolution of global standards to further improve its corporate governance framework while meeting the interests of all stakeholders.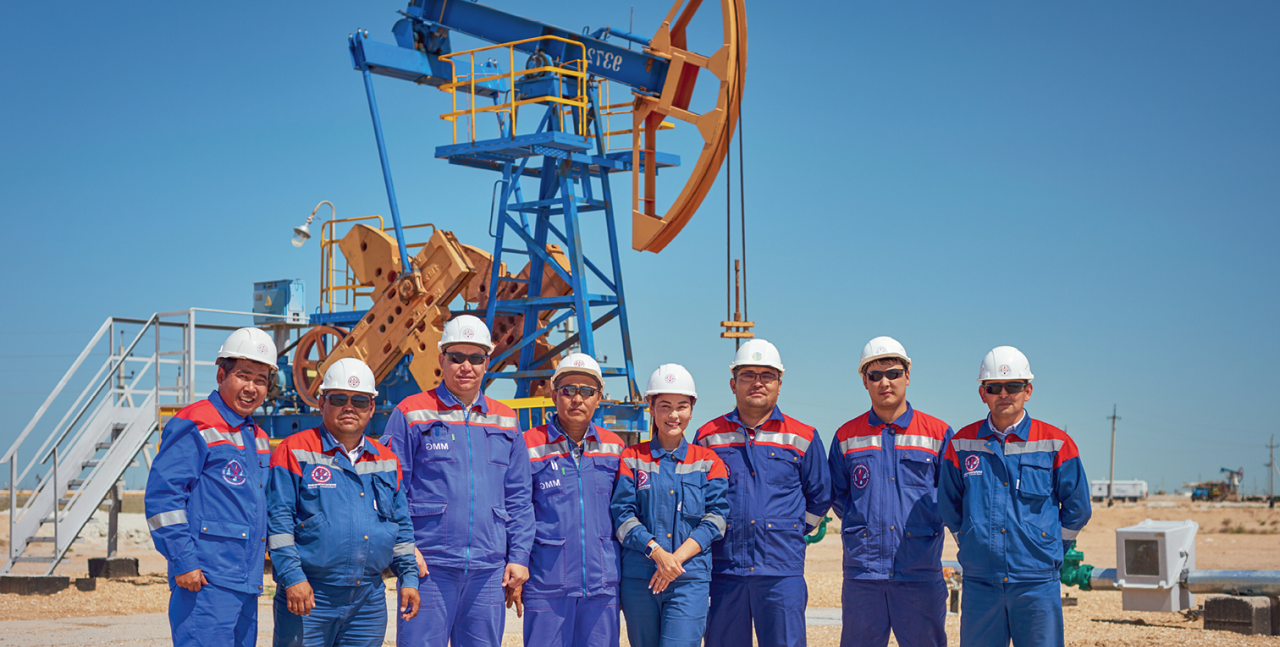 Maintaining financial stability
The Company is committed to prudent capital allocation policy and focuses on maximization of shareholder return through the cycle. The Company seeks to adhere to conservative financial policy maintaining balanced debt profile and securing a strong liquidity position.
KPI system
Our KPIs are based on key financial, economic and sector targets set out in the Company's consolidated Business Plan and division-level targets. The KPIs are cascaded on a top-down basis. Individual KPIs are based on strategic objectives set for a specific leader. KPIs and targets for members of KMG's Management Board are set by the Board of Directors.
Our compensation system for executives and managers focuses on results, motivation, and improving productivity and operational efficiency and includes short-term benefits for achieving KPIs.
A specific formula is used to calculate each KPI (with adjustments subject to existing macro indicators). Corporate and functional KPIs are distributed across the final motivational KPI scorecards as follows:
Key performance indicators
KPI
Unit of measurement
2017
2018
2019
Net income

Net Income attributable to the parent company's interest.

KZT bln
443
696
1,197
ROACE

ROACE = (profit for the year + compensation costs adjusted for tax payments)/average capital employed.

%
6.9
8.1
11.5
Debt/EBITDA

As per approved methodology of Samruk-Kazyna JSC.

Ratio
4.24
2.50
2.1
Operational KPIs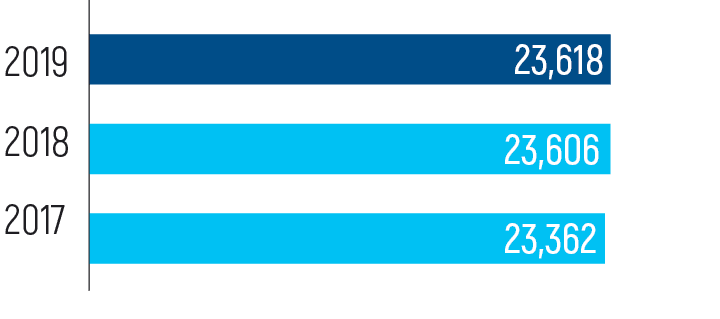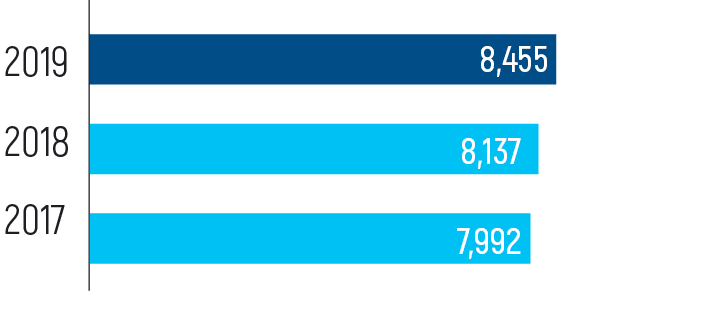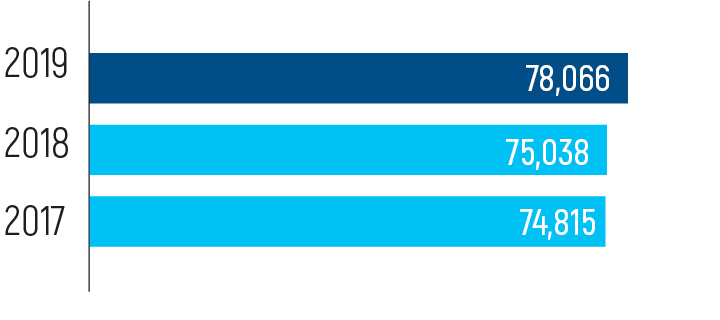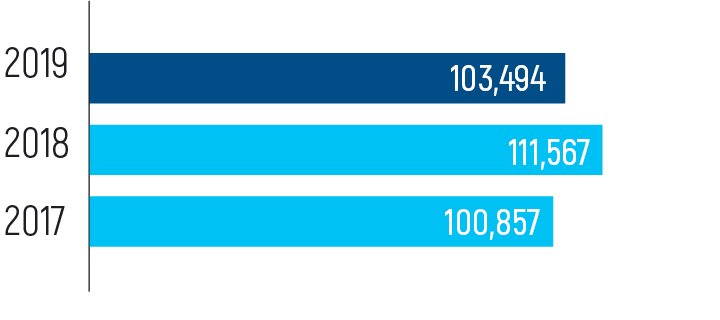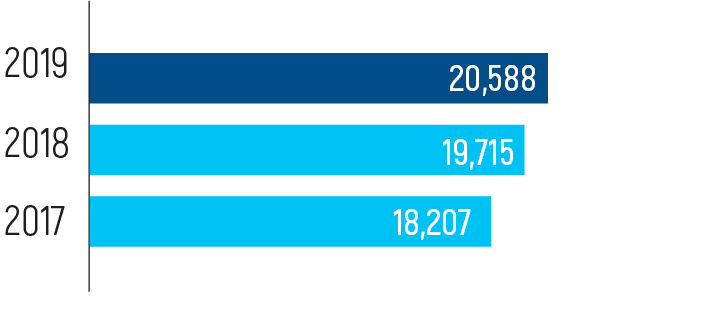 employee status